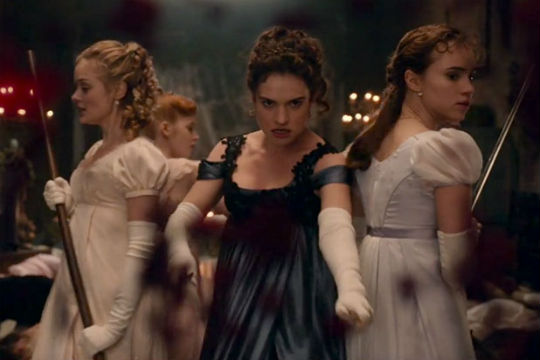 We've seen stuff! Really!
Much of the TV we usually watch is either on hiatus or about to disappear on summer break so this month, Colleen, Dale (Letterboxd) and I (Letterboxd) touch base on a couple of finales, share thoughts on some recently seen movies, books and the usual rundown of podcasts!
Podcast: Play in new window | Download
Subscribe: RSS
Subscribe:
[spoiler]
ALL the RowThree Podcasts on one feed
All posts and discussions from RowThree[/spoiler]
We can also be contacted via email – marina@rowthree.com!
Show Notes:
Opening Music: Abel Korzeniowski's "Demimonde"
Colleen's Stuff:
Movies:
– Captain America: The Winter Soldier
TV:
– "Lady Dynamite" S2
– "Houdini & Doyle"
Podcasts:
– Detective
– Invisibilia
Books:
– "Fool's Quest: Book II of the Fitz and the Fool trilogy" – Robin Hobb
– "Tank Girl"
Dale's Stuff:
Movies:
– Jungle Book
– Captain America: Civil War
– The Martian
– Spacemaster X-7 (full movie)
– After the Thin Man
– Ghost in the Shell
– Pride and Prejudice and Zombies
TV:
– "The Americans"
– "Madam Secretary"
– "Wynonna Earp"
– "Elementary"
– "Blindspot"
– "Castle"
– "The Flash"
– "Agents of S.H.I.E.L.D."
– "Preacher"
– "Marvel's Daredevil"
– "Stitchers"
– "The Night Manager"
– "Limitless"
Books:
– "The Wee Free Men" – Terry Pratchet
– David Webber
Marina's Stuff:
Movies:
– Midnight Special
– The Invitation
– The Curse of Sleeping Beauty
– Approaching the Unknown
– Money Monster
– Colonia
TV:
– "Thirteen"
– "Penny Dreadful" S3
– "The 100" S3
– "The Path"
– "Fear the Walking Dead" S2
– "Wayward Pines" S2
Books:
– "Me Before You" – Jojo Moyes
Closing Music: Pink Floyd's "Money"