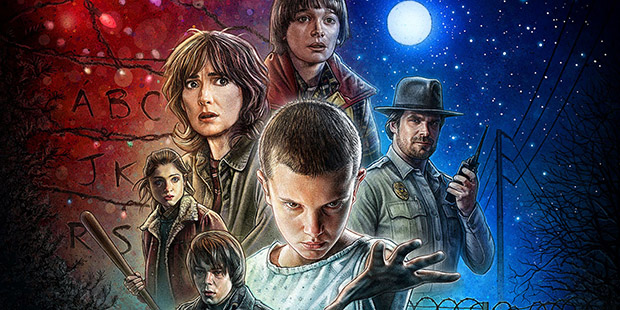 It doesn't happen very often but on this month's episode of the Media Spew, we all happened to watch the same show. Yes, as with everyone else, Colleen, Dale (Letterboxd) and I (Letterboxd) all manged to get sucked into the cult of "Stranger Things."
Aside from Netflix, we also caught up with a great assortment of movies, both new and old. Listen in for all the goodness!
Podcast: Play in new window | Download
Subscribe: RSS
Subscribe:
[spoiler]
ALL the RowThree Podcasts on one feed
All posts and discussions from RowThree[/spoiler]
We can also be contacted via email – marina@rowthree.com!
Show Notes:
Opening Music: Kyle Dixon & Michael Stein's "Stranger Things"
Dale's Stuff:
Movies:
– Nanny McPhee Returns
– Aloha
– Barely Lethal
– Robot Overlords
– The Transporter Refueled
– Batman vs Superman
– Absolutely Anything
– Blade Runner
– Sisters
– Star Trek Beyond
TV:
– "Stranger Things"
– "Unbreakable Kimmy Schmidt"
– "Killjoys"
– "Dark Matter"
– "Preacher"
– "Roadies"
Books:
– "Do Androids Dream of Electric Sheep" – Philip K. Dick
Podcasts:
– The World According to Sound
– The Story Collider
Marina's Stuff:
Movies:
– Tickled
– Eddie the Eagle
– Ghostbusters (2015)
– Terms of Endearment
– Realive (Marina's review, Kurt's review)
– Vintage Tomorrows
TV:
– "Stranger Things"
Colleen's Stuff:
Movies:
– The Hunger Games: Mockingjay Part 2
– Guardians of the Galaxy
TV:
– "Stranger Things"
– "Marco Polo"
– "Archer"
Podcasts:
– My Favorite Murder
– Science Vs
Books:
– "Harry Potter and the Sorcerer's Stone" – J.K. Rowling
– "Atrocity Archives" – Charles Stross
Closing Music: Blue Swede's "Hooked on a Feeling"